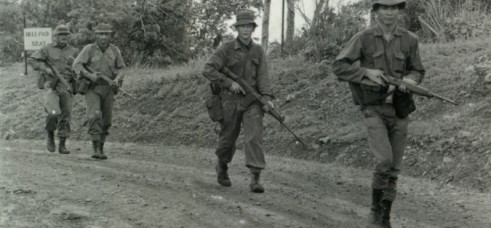 Moving out on patrol from Nui Dat. In front of me is our platoon interpreter. He was a Sth. Vietnamese school teacher. He could speak 12 languages.
1.About The Author – Brian Wilson (Done)
2.Bukit Street Blues. R16. Lust and love: This is a story
about soldiers on final leave before going off to war.
It contains explicit sex descriptions. Discretion req.(Done)
3.Ghurkas On The Thai Border. I miss out on selection – and
then I prove I'm good enough (Done)
4.First Blood. First shots fired. Horror (Done)
5.Bacon & Egg Award. I proved myself to myself, but I
could not wear the medal (Done)
6.The Bayonet. The only bayonet charge by NZ Infantry in Vietnam.(Done)
7.Keep Your Enemy Close. My second kill, but it almost got me killed. (Done)
8.Death At High Noon. Our first man killed in action. (Done)
9. Fragging is Murder. Two attempts to kill our own men. (Done)
10.The Brothel. A master-stroke of man-management. (Done)
11.Grown Men Do Cry. At the beginning – and on the last day
– The Green, Green Grass of Home(Done)
12. Agent Orange. We did not escape.(Done)
13.Anzus Revisited -Adelaide Reunion 1977. Nothing like a night and
a day in a shell hole with two others to focus the mind on life.(Done)
———————————————————————————-
Other sketches/vignettes (I'll do these after Story 13):
A sack-full of grenades;
ANZAC Days;
"THE" Photo;
BW & The Bach Boys;
PTSD Dreams;
"Paddington" -The Underwater Operation;
By their Smells Ye Shall Know Them;
Wildlife Frights;
"My kingdom for a screwdriver".
These Boots are made For Walking;
Bodies must lay where they fell until dawn
"Aussi" Stories
Photo Stories