ANZUS Revisited – 1977. Nothing like a night and a day in a shell hole with two others to focus the mind on life.
ANZUS REVISITED-Adelaide reunion

Steve was a Yank. We hadn't met many Americans in person…except in the PX clubs in Vung Tau, on our rare visits (see "The Brothel" and "Fragging is Murder").
He was a young officer in the US Coast Guard who The Boss had befriended while he was on an exchange tour up the Mekong Delta on a US patrol boat. They became friends and the Boss invited Steve to join us for a patrol or two "out in the bush". He accepted the invitation.
At least, I think that was who Steve was…its become a little vague how he came to be in our platoon, on a patrol, deep in the Phouc Tuy jungle.
I remember how much he loved our SLR rifle…he quickly exchanged his own issued M16 for an SLR from our store.
The other vague part of the memory cells is the fact that my close mate, Aussi Ellis, was in this incident with Steve and I. Aussi was serving in Two Platoon, me in One platoon…and although, on a whole Company patrol, we would both be out there together, we would normally stay quite separate in our respective sections and platoons.
Anyway, somehow, during a frantic contact with a large, but undefined body of VC/Nth Vietnamese, I found myself lying in a very large crater, in open ground, that was the result of a huge bomb from a B52 Bomber – not from there and then – from some time past.
The open ground around the crater wasn't just from the massive blast of the bomb…it had fallen in a 500-600 yard tract of open field – probably old abandoned rice paddy.
I had rolled into the crater to escape fire from the tree-line across the field. I had crawled to the forward lip of the crater and returned a couple of shots – not a clever idea, because now they had a target out in the open, instead of the rest of our Company hidden in our side of the field, in deep bush.
Then something VERY scary happened…Two men slid down the back lip of the crater, where I had come in. It frightened the shit out of me…I swung around, about to fire…and saw that they were Kiwis…well…not exactly…one was my mate, Aussi.
He was born and brought up in Adelaide, Australia. He had come to NZ on his big OE and somehow decided that the NZ Army was as good a job as any.
(You'll see how we met in "Grown Men Do Cry")
And Steve was a Yank. From North Carolina.
When we settled down in the centre of the deep crater, they told me that the Company was calling in artillery fire to deal with the bad guys across the field… and also helicopter gunships were on the way.
So we should just sit tight and things would be fine.
The hierarchy, I remember, was a little "strained". Steve was an officer – so on paper, in command.
Aussi and I were baggy-arsed privates – but this was our terrain, and he was our guest…so after a little heated discussion about what we would do next, we all agreed to stay put, not to return fire and attract something larger – like mortars – and wait for the Calvary to arrive (literally, I recall – the US 7th Calvary was one of the squadrons of Huey choppers that serviced our needs from Nui Dat and Ben Hoa).
(see "Keep Your Enemy Close")
That was about mid-afternoon. The firing was crossing our crater from both sides – from behind (our guys) and from the far side of the field (Them). Sometimes sporadic shots…sometimes intense machine gun bursts.
With the occasional "pop" of our M79 grenade launchers.
It was hot. The sun blazed down on us. We had plenty of water, on our belts, but tried to use it sparingly as we did not know how long we would be pinned down like this.
As it turned out – quite a long time!
Dusk was approaching…the firing had dropped to the occasional shot…we were surprised…something should have happened by now…
Normally, the Viet Cong would have pulled back and faded into the bush, knowing that they had come up against a strong group of enemy…and that very soon, very bad news for them would be arriving from the air.
But I don't remember any artillery arriving…and the Huey gunships did not arrive…so something else was happening…and as usual, us grunts just waited to see what the superior military brains were deciding to do about things.
Maybe the VC had a similar command structure and their grunts were in the same position.
Our crater was literally within shouting distance of our treeline.
Someone yelled to us – "you guys stay put". Keep your heads down!. We'll come for you by morning!"
Didn't sound like a great plan to me…are we all going to stay like this, swapping long range shots across open ground all night?
Yep…that was the Plan, all right.
So it got dark…and quieter. We all three moved to the forward lip of the crater where we might hear any VC approaching across the field.
We agreed on a roster of two guys awake, one resting in two-hour shifts, and settled in.
It cooled down to comfortable temperatures.
The night was still…and very dark. No moon. Millions of stars.
And this is where my story really begins.
It started out with Steve asking Aussi and I to tell him about ourselves. We felt comfortable speaking softly, while still staying alert to outside noises. In fact, the occasional shot from either side was reassuring in a strange way.
Aussi told his Adelaide story…one I knew…a tough childhood, brushes with the Adelaide law…and a new life, he hoped, in NZ. He was single and 24 years old.
I told my story of achievement, success, girlfriends (bragging) etc, etc (see "About Brian Wilson") and generally pissed Aussi off. I was single and 21.
Steve was a devout Christian, married, a career US Navy man, seconded to the Coast Guard. He was 24.
As we lay back and spoke more infrequently, we marvelled at the brightness and abundance of the stars in the black sky.
Steve told us of his religious beliefs, his belief in this war, his love of his wife and his desire to start a family when his tour was over.
Aussi and I told him of our separate Catholic upbringing – me in a good college, Aussi in Govt institutions and Boys' Homes – and of our disbelief in all matters religious, our positive belief in any war, because we had chosen to be soldiers…and our intense desire to grab the pants off of the hundreds of shelias that awaited us back home.
Some of our stories were ribald…Steve's stories were uplifting, motivating and almost inspirational.
The stars will do that to you.
Steve's telling of his courtship and marriage to his wife – and their hopes for the future – struck home with me more than I realised.
I found myself, during the lulls, staring at the unusual star constellations and warming to the idea of choosing one girl – and marrying her.
When I murmured words along these lines, Steve enthusiastically encouraged me. Aussi looked at me sceptically….
Everything seemed possible that night – if we got out that hole in one piece.
Somewhere towards dawn, Steve proposed:
"Guys– if we all three make it back home from this place lets get together and have a beer and celebrate. Ten years from now. Any place. Any time."
We shook hands on it.
And so it came to pass…ANZAC Day, 25 April, 1977.
Aussi had arranged for us all to stay at his father's home in Adelaide. Steve had taken leave from the Navy and arrived the day before me. I was working for IBM in Wellington, and had wangled a business trip to Sydney…and took some leave and flew down to Adelaide with a spring in my step. (Not to mention the kind permission of my wife.)
We had a neighbourhood barbeque at the house that night before ANZAC Day. I told Steve of my marriage to Anne in 1969, about our daughter of one year of age…and how much his discussions that night in the crater had influenced me.
Aussi told us of the excitements and tribulations of being a Wharfie inWellington…and that he had decided to marry a Maori girl that he had met…in fact he had a daughter with her already. I was to attend their wedding later in the year.
Steve had two children by then – a boy and a girl – and we all laughed and hugged and drank beer like there was no tomorrow.
But there was a tomorrow.
The local RSL had gotten wind of our re-union and had arranged for us to be picked up at the house at 4.30 am.
We were up and ready…a little groggy, but bright and shiny in jackets and medals. Steve was in his Naval Uniform.
Downtown we were placed at the front of the Dawn Parade to march through the streets of Adelaide.
Steve was given a US flag to carry. Aussi was in the centre with an Australian flag. I marched on the right carrying the NZ flag.
We three were the front rank of a huge column that stretched over four city blocks. Adelaide folks know how to put on a parade!
After a moving service at the Cenotaph we marched back through the city. TV crews followed us…kids ran alongside…the band played and the people cheered.
It was the most memorable ANZAC Day parade of my life.
The rest of the day is a blur of RSL Clubs, handshakes, backslaps, ladies' kisses and more beer.
In fact not only could we not buy a beer that entire day, for the next three days while Steve was with us, any pub or club that we went into refused our money.
They had seen us on TV, in the news; we were interviewed – we told our "crater" story…they loved us…and we loved them…
Steve went home to the States, and Aussi and I were taken into the outback by his older brother. He had arranged with the local authorities, and a local land owner, for us to go shooting.
We were allowed one kangaroo each – we had the tags for the skins to be cured…and as many foxes and rabbits as we could find.
To this day, I have the cured skin of a Big Red that I shot with a 1914 Lee-Enfield .303 at 150 yards across a gully. I also have a soft, colourful fox skin that I shot in the dark from the back of a Ute. All I could see was the green reflection of sheep eyes, and the red eyes of the fox.
That was a 300 yard, looping shot with a .22…it became legend in the Burra pub. The local farmer brought a crate of beer out to our hut in the "bush". Foxes were deadly enemies to the lambs and he was most grateful.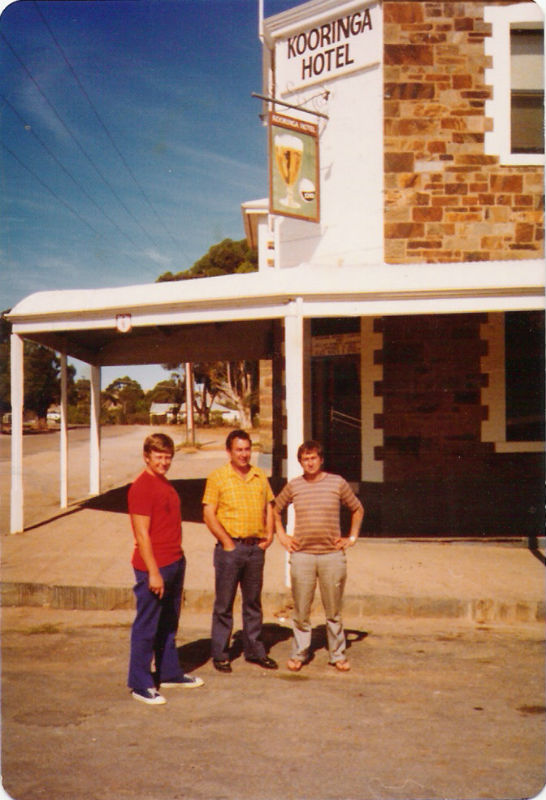 We ate rabbits and fished in a stream off the Murray river. We even had a kerosene-fuelled fridge to keep our beer cold.
If I ever want to think back on a perfect camping holiday, it was that hot, dry May of 1977.
Steve died in a car crash in Carolina two years later. One of the few regrets that I have in my life is that I never got to meet his wife and children. This was pre-internet and I had found that my new life of marriage, fatherhood and a blossoming career in IBM did not mix well with my military adventures from the past.
Aussi remained a good mate through my years in Wellington…my wife not only allowed me to have the time in Adelaide away from home responsibilities, but continued to put up with my frequent sojourns with Aussi. And we had a few more adventures (see "Aussi Stories" – not written yet – 19.06.13)
It's only in these latter years that I realise how formative, how intense, how soul-changing that short adventure in the Infantry had been for me.
I once ran a management meeting in Queenstown while at IBM. At the dinner, I surprised everyone in my address, by talking about comradeship and brotherhood as vital factors in team management.
In fact my rendition of Shakespeare's "We few, we happy few, we band of brothers" is still remembered.
The shining example of the Australia-NZ-United States (ANZUS) relationship that I experienced with Steve and Aussi has influenced me beyond measure. Our past Governments have, mistakenly in my view, decided to withdraw from this alliance…and left us open to looser, less loyal, less effective liaisons with anybody who will buy our food and pander their "diversity" to us.
But my time to change all these things has past.
I remember the times, and the men that shared those times, with honour, respect and love.
That happy oasis in Adelaide with two kindred spirits was soon to be overshadowed by long shut-out memories of the war…and the very real effects of our exposure to the stresses of battle and to the chemicals in the defoliants that were to blight all of our futures (see "Agent orange").
I hold tight to the hope I experienced in a star-filled sky, surrounded by comradeship and danger…to the child-like wonder of it all. To this day I go down to my local beach in the dark hour before dawn and re-live the starry, over-powering involvement of the cosmos.
I'll finish on a favourite note…I want it in these pages somewhere…here is just fine…from the pen of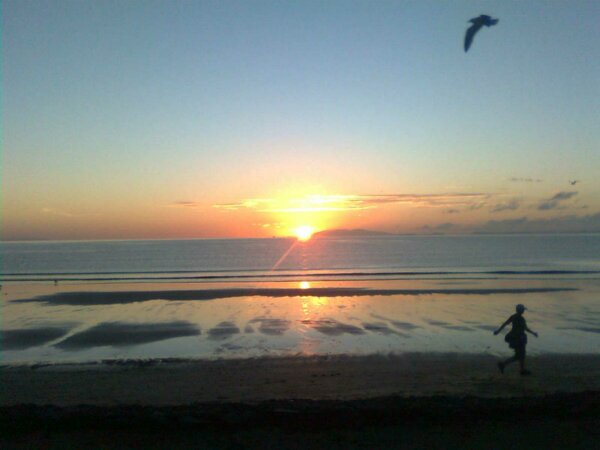 Elizabeth Akers Allen:
Backward, turn backward
O Time in your flight
Make me a child again
Just for tonight
My local beach, Mairangi Bay
Dawn 2012