BUGIS Street Blues (R16 Content)
(CENSOR'S WARNING:- This story is about soldiers on leave prior to going to war. Some matters are sexually explicit. Discretion required)
BUGIS STREET BLUES (Pronounced "Boogie" Street): Xmas 1966. We had completed two months of "orientation" training in the jungles and rivers of Malaysia, based in our huge base – Terendak Camp – the location of the 28th Commonwealth Brigade – a mixture of British battalions of infantry stationed in-country to protect the newly formed Malaysia from active, armed invasion from Indonesia and internal communist terrorists.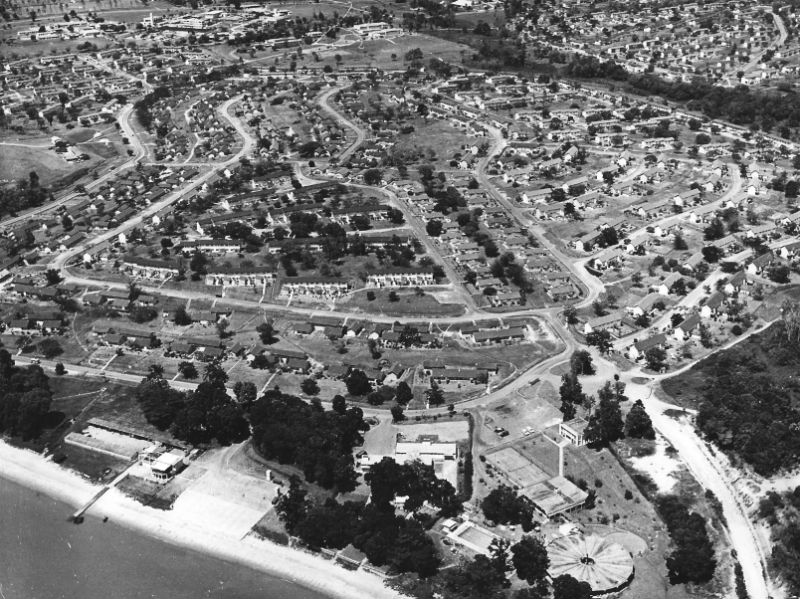 I was acclimatised to the heat, a crack shot with my SLR 7.62mm rifle, adept in hand to hand combat (defensive, more than offensive – more about that later). I could run all day with a 50lb pack on my back and climb through the jungle, through and over rivers and up mountainsides – without making a sound – day or night – for days on end.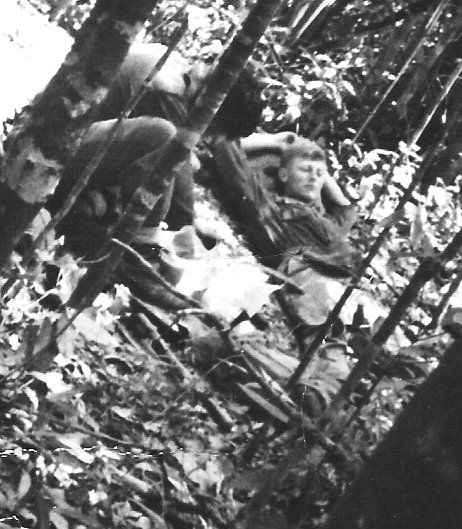 I was becoming an awesome (not a term used much in the '60's) infantry bush soldier. I walked 20 foot tall, sprang over small buildings if they were in my way, and could see no reason in the world why I should not outlive, outlove and outwit mere mortal human beings. I acknowledged that my fellow soldiers were almost as good as me, but hey, I needed them to "pick up my brass" (a saying much used in the '60's).
So I chose Pete, Aussi, Rod T., Charn and Dick to hit the town with me for some R & R.
We had two weeks leave and we chose to play tourist in Singapore. We were young (19-21), fit, strong, thirsty and randy! A military travel pass got us to Singapore by train (overnight) and booked us into barrack-like accommodation in The UJ Club in downtown Singapore.
Talk about culture shock!. We were all new to Asia, Chinese culture, street prostitution, and the heat, smells and bustle of the Old Singapore before it became civilised. We LOVED it from the first minute in a bar on the railway station straight from the train.
We had money. I had about $100 Singapore per day of my holiday…and I knew that that would be plenty when I found that the first bar beer I bought was $2.00! We dumped our gear at the UJ club and hit the taxis to get to the infamous nightlife – Bugis Street. Lane after lane of stalls, selling everything under the sun; drunken soldiers and cooking smells crashed into our small town minds…it was wonderful.
We had beers in a snake charmer's hut, beers in a blue movie hall, beers in a "live show" that involved two beautiful ladies, a donkey and, towards the end of the act, enthusiastic participation by my mate, Aussi… with the girls, I hasten to add, not the donkey.
We ate kebabs and crabs and chillis that knocked our brains around…and as the evening wore on we settled in to a cosy, well-lit outdoor bar that had the right mix of music and bargirls.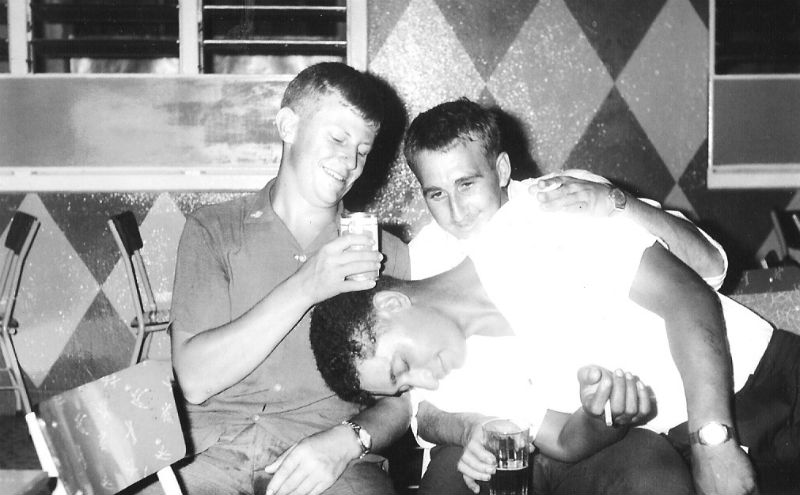 We gave in to a very insistent hawker who promised "unusual, first-time ever see! live show", only $10. We were in the mood for anything at that point of the evening…so it was "OK John…lead the way."
A few worried looks between ourselves as we wound our way behind our grinning guide…shorter and darker alleyways led us away from the main areas of Bugis Street.
Then, we were there. We went down some steps to a long room…a bar naturally…beers all round…then "John" led us to an alcove where there were five low cots, squeezed under a low ceiling…just enough headroom for you to lie on the cot with your face almost touching the ceiling.
Looked a bit dodgy, but Hey! the whole town looked dodgy to us…and we were reaching the bulletproof stage of our evening so, under his urging, we lay down on a cot each and looked up.
Six inches above my nose was a glass ceiling, which turned out to be a glass floor in the room above.
Faint music played. We were very quiet…our ribald comments and comradely banter dried up.
Something was about to happen.
Into the room above us came five lovely? young ladies? dancing to the music. After moving around the room a couple of times they each positioned themselves over one of us. We stared in transfixed delight/horror/ fear/…we suddenly realised that they wore no clothing below their short skirts…we were being treated to an unusually angled strip show…I thought.
Then…absolute shock! "My" lady stopped directly above me, crouched to display her intimate parts to me in such a way that today's comment would have been "too much information!"…but it suddenly got a lot worse. She relieved herself, front and back, liquid and solid six inches from my horrified face.
I could tell from the gasps and mini-screams that my mates were getting the same treatment.
We didn't know what to do! What DO you do? We didn't say anything. We didn't look at each other. We stared upwards at the mess in disbelief…until a revolting little man in ragged shorts, and a cigarette in his mouth walked through the room with a garden hose and washed our "windows" down grinning at us diabolically.
We quietly crawled out of the enclosure and, ignoring the offers of more beer and "nice" company, we lurched into the street. Someone used his military navigation skills and got us back to the main drag (sic) of Bugis Street…the first group to accost us were six-foot tall transvestites.
In our weakened state we were easily led to a nearby outdoor bar where we slowly recovered our good humour and ribald behaviour.
The strangest thing about this episode in our evening is that over the ensuing years, those particular events were never mentioned to each other. It was as though our shame had locked it inside.
Looking back I like to think of it as proof (to me) that inside of us was a basic sense of decency. Our Kiwi upbringing had laid down some rules of engagement that had some fences around them. I was to remember this feeling in the year to come when our moral compasses were tested in combat.
I wish that small group of mates was still alive today so that I could tell them how much I appreciate their strong and decent friendship.
But…no such philosophy could be allowed to slow us down on our first night in old Singapore town!
Songs and under-the-table visits from experienced ladies kept us drinking well into the night. Any thoughts of "making it an early one" to start the holiday were washing down the storm drain with other discarded, ludicrous ideas – like "yell a little softer! Let's get home!…and "where's Wilson got to?"
Yep…I had disappeared. Sensible explanations are a little on the light side, as to where and when I went AWOL, but somewhere, somehow, they all got home to the UJ Club safely in a cab and I woke up in an alleyway a block or so away from Bukit street with a very sore lump on my head and no watch or wallet.
The watch was a gift from my parents at my twenty-first birthday, three months ago, on my final leave. The wallet was an old one, worthless except for the entire bundle of money intended for the next nine days of holidaying in Singapore.
My mugger had left me my NZ Army ID card (tell you about that card later)and the travel pass made out in my name getting me from Singapore back to Terendak Military Camp.
I staggered to a wide, deserted street and began walking east toward the first pink glow of sunrise on day two of my leave.
I felt pretty bad – hungover, sore, robbed, mad at my mates for leaving me to the evil night dwellers, mad at the evil night dwellers for rolling me and mad at myself for getting into the situation in the first place. Twenty-one's a good age to learn these things, though. It has never happened to me again. (Well… if you don't count a mugging attempt in New York City, 20 years later, where I fought back and kept my wallet!)
Anyway, a taxi finally came past and stopped and recognised my description of the well-known UJ Club.
He pulled up outside the steel-gated grill that was the door to the small lobby. The Sikh guard shifted his shotgun from one knee to the other as he leaned forward on his stool and watched my progress with interest.
I got out, still mad at the world and abused the poor driver for conspiring "with all his fuck'in mates" to rob me. He could whistle for his fare…"go and see your girlfriends in Bukit Street"…and I lurched off towards the door.
The Sikh rose and pulled open the grill door and suddenly yelled at me to run! run! My poor old driver had probably had a gutsful of drunken, privileged English soldiers ripping him off – he was after me with a large screwdriver, thirsting for my blood.
I made it in, the gate was slammed shut and I retreated up the stairs with the driver poking the screwdriver through the grills, shouting abuse at me. The Sikh guard was highly amused and happy – he knew that I would show my gratitude to him later – he didn't know at that point that I was broke!
So upstairs, my brave companions were slowly waking up to all the commotion, getting hangover-breaking ice cold coke bottles from a dispensing machine in the corridor and generally laughing it up.
I wanted to go to bed…they wanted to get out into the wonderful world of Singapore and explore. I was broke, so I couldn't go with them…but they all put in $5 each to stake me through the day.
Aussi said that if I stayed at the Brittania Club down the road the food and beer were cheap and we'd meet up back here this evening and head out for dinner. Sounded fine to me.
Little did I know it was the best of possible arrangements. I could not have wished for a better turn of events. We had no idea that New Zealand was about to commit infantry troops to Vietnam. This was to be our last leave before forming Victor Company – the first company to be posted up there.
As I dozed off that morning shutting out the chatter and clatter as my mates headed down the stairs for their day on the town, I was thinking that "ah well – there goes my chances of a few wild nights of sex and drinking". All I had in front of me were a few more days of boring, lonely drinking flat beer in an old British soldiers' club.
I did not know that the gods of war were cooking up some plans for me, and their mates, the gods of lust, debauchery and even LOVE had a great little cauldron warming up!
A few hours' sleep, clean clothes and a cold coke saw me bounce down the stairs and slip past a different Sikh guard (thank goodness for that!) and head off to the boring (I thought) Brittania Club.
The huge marble columns and matching floors dictated the tenor of the building. It was refreshingly cool inside. There was a long bar in a large, comfortable-looking room and, the friendly Chinese barman told me, there was another bar poolside.
"Why not have a beer here – only 50 cents!" His bar was the place to be later in the day when the local foreigners started coming in after their days' work.
And, he said, the club lent out swimming costumes free to visitors and there were always lovely ladies to watch in the pool. Sounded like me. Off I went.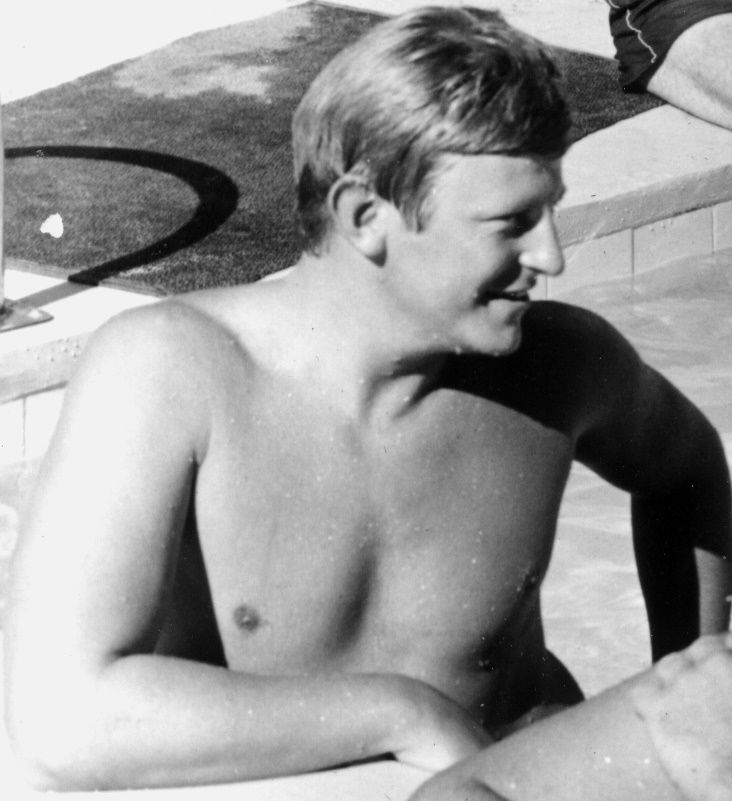 Three pints later I was in the pool in a borrowed set of togs and lazily enjoying the peace and quiet.
As I swam up to the ladder to get out, I was brushed into, quite firmly, from behind.
"Oh, sorry, " said a soft, Scottish-accented young lady. "I didn't notice that you were in my way".
"Hmmm", I thought. What a beautiful woman. What a figure. What great togs!
Many smiles and introductions followed. Alexandria, as I came to know her, was at a loose end for the day and just LOVED to swim here, away from the heat and bustle of Singapore town… and "why don't we have lunch?"
(Note: This lady was doubly memorable because she had the same first and last name as a very famous film star – then and now! But in case anyone connected with this Story is still alive, I will call her "Alexandria".)
I started to explain that I was on a restricted budget and was pacing myself to last the day until my friends returned.
"Nonsense. Lunch here is very reasonable…and anyway, I'm paying…so come along…I want to learn all about you," said she with that wonderful accent and smile.
"Hmmm"…me too," I said to myself…
Anyway, Alexandria actually lived in Singapore. Her husband (Husband!!) was a Royal Air Force pilot and was up country in northern Malaysia (Butterworth) for a few weeks…and she was so lonely and bored …and she really had to go to a dear friend's dinner party tonight…and she wasn't going to go…but now that we had met…would I like to escort her?…it would be a real favour…
"Hmmm…er, I really don't have any decent clothes. I live in uniforms most days, and my civvies seemed not up to the mark of a 'dinner party'," I replied.
Maybe I could meet her afterwards, my evil mind was wondering, when she's had a few drinks at someone else's expense…
"Nonsense", Alexandria said. " You are just the right size and shape (very warm smiles) to use my husband's wardrobe."
Put like that, it was almost my military duty to be her escort for the evening!
Well, what could I do?
A tasty lunch, a couple of drinks and we were in a taxi heading off to her apartment in an unknown part of a very up-market suburb of Singapore.
Long story short – the white trousers, shoes and dinner jacket/bow tie fitted me perfectly…and so did the leather bucket seat of the white, low-slung MG sports coupe that she used for "tootling" around town.
By 7.00pm we were off to dinner…having truly broken the ice in our short relationship, by ensuring that all aspects of the apartment's furniture and fittings (and enchanting mistress) fitted me as well as the jacket!
I had a rough idea of where we were to drive to, so I could not resist asking her if I could swing by the UJ Club to let my mates know that I was not AWOL again and that I would not be needing their company or financial support for the foreseeable.
It could not have worked out better – the boys were on the first floor balcony having some sunset beers before setting out to try to find me.
I parked on the street in my dinner suit, in my MG, Alexandria's arm on mine, her hair tied back in a fetching scarf.
The disbelief! The howls of envy! I said I'd catch up with them later in the week. Not to worry about me. I'd be fine…
A cheery wave from us two young, beautiful people to my rough, drunken, mates…and we were off down the road to shouts of "Wilson…you dirty bastard!".
Alexandria showed me a part of the social scene that I had never seen before in my young, inexperienced life. She lived in the upper classes of ex-pat British society in a city that had been under military governorship for generations.
We seemed to be accepted wherever we went by her circle of friends, servants, local business people…and to my horror, on one occasion, an RAF man in a bar that she knew through her husband.
The topic of her husband, and my temporary replacement of him in her life, just never came up! I was too embarrassed about the whole situation…she did not seem to worry enough about it to explain…and I did not want our little piece of wonderland to end.
I was in love with Alexandria…as only a young, adventurous soldier in a foreign land can be. We knew it would end on day ten of my leave…and we did not waste one hour of the time we had together.
I still have the photo she gave me of herself…suitably inscribed. It joined my other two much-loved photos of past (current?) girlfriends that I carried from New Zealand.
All three photos adorned my bunker some months later when I was posted to South Vietnam. I glued them to a NZ Flag. It was the only decoration I had on my bunker wall.
I've never met, spoken to, or tried to contact Alexandria in the 45 years that have passed. And I've never forgotten her. I often wondered if she would ever try to contact me. But by 1969 I'd married one of the girls whose photo shared a place on the Flag with her, so it's probably right that we never crossed paths again.
I wonder if she is still alive…if she is happy…I hope that she has had a fulfilling life like me…I have two children and now a beautiful granddaughter, thanks to the girl on the flag…and I still live with her and love her still.
But I often wonder that with a little effort on my part, with today's communications possibilities, I could track down the lovely lady who rescued a lonely soldier all those years ago.
My sensible side tells me that no good would come of such a meeting. I will continue to treasure the experience and be grateful for the love and kindnesses that stood me in good stead over the year to come…when my real life as a soldier overtook all else…and memories of Alexandria became a warm memory that I think helped get me through the tough times …and taught me what I had to look forward to if I could just survive the relentless jungle war that was about to change my life forever.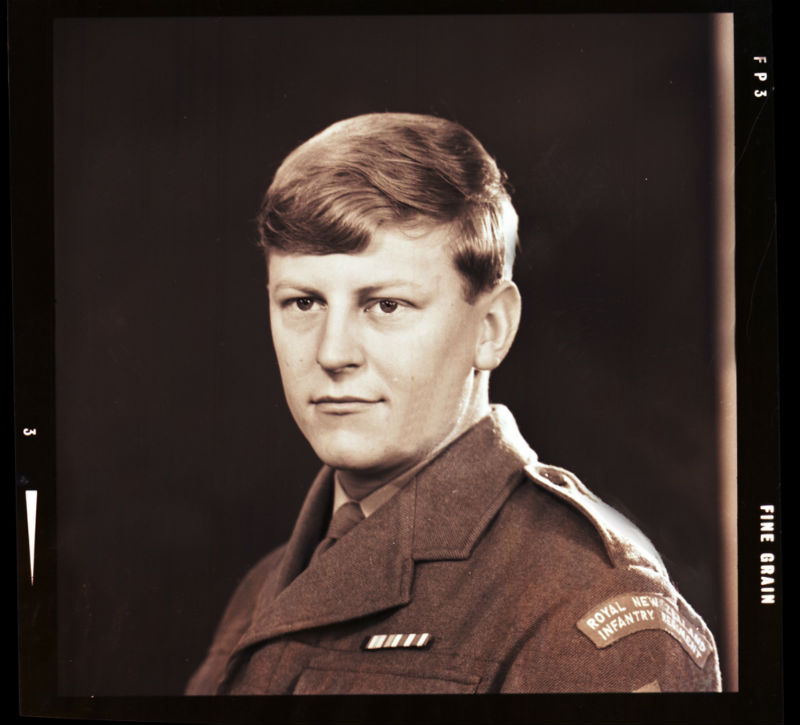 (Next story is "Ghurkas on the Border)