Epitaph (Vale Willy Driver)
An old comrade, and very close friend, shocked me a while ago.
He told me that he had been feeling "down" for a long time now…and had thought that (like all of us Vietnam vets) old age was creeping up, the old body in all its moving parts, was slowing down – and breaking down to varying degrees.
I nodded sagely during this quiet, quite unusual public analysis of "how he was feeling".
"But," he went on, "What is really making me feel this way?
My life, since leaving Victor Company, is one long anti-climax.
Since we came home from that first tour (he did three!) I keep looking for the same excitement, the same dangers, the same friendships, the same everything.
It all seems so "half-pie", so flat," he muttered.
And I immediately thought of Willy Driver. Willy was a good friend, a Fijian by birth. He was a little like my mate Aussi – always in trouble with the authorities, but always good for a terrific laugh with you…and always a sound and trustworthy soldier.
He had moved to Auckland's North Shore about ten years ago with his wife, children and grandchildren.
He had a steady job as a painter/paperhanger for a large company. We would often meet at his local, the Birkenhead RSA, for a quiet beer or two…or sometimes a noisy beer or two.
Willy was one of the RSA's darts champions and used to travel the country for RSA tournaments.
The following is a typical "Willy" act:-
It's a quiet Saturday afternoon in my RSA in Browns Bay. I'm at a table with a few local friends. Having a beer, naturally.
Willy appears in the doorway, about 20 ft away. He marches three or four exagerated, high foot-lifting steps towards me (think of those guards on the border between Pakistan and India in the Khyber Pass).
He halts – CRASH! His right foot smashes down, bringing him to a quivering state of ATTENTION.
"WILSON!!" he bellows. All eyes go in amazement to Willy, to me, back to Willy again.
Now that he has everyone's attention, he marches, quick-time, noisily, across the floor to our table, arms swinging above his head.
I have an inkling of what is to come. I stand to face him.
He marches right up to me, his shoes almost touching mine. I stand rigid. Silent.
He brings his right arm up in a massive, sweeping British salute, fingers quivering above his eyebrow. I am not dressed correctly, so I do not return the salute. (This does not worry Willy.)
And then he leans forward…and kisses me, hard, on the lips.
He knew how to make an entrance, old Willy.
If you look at some of the photos (and below) on this site where there are three of us "on the wire", Willy is the one of darker hue.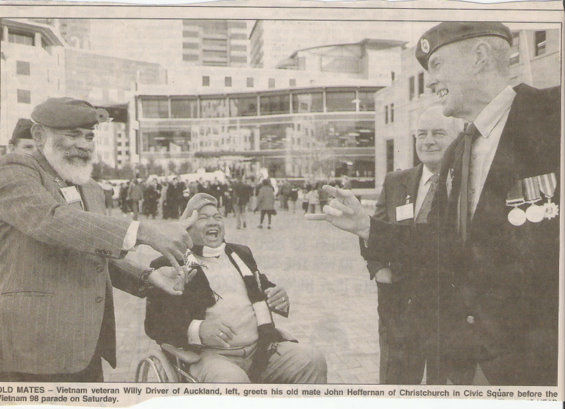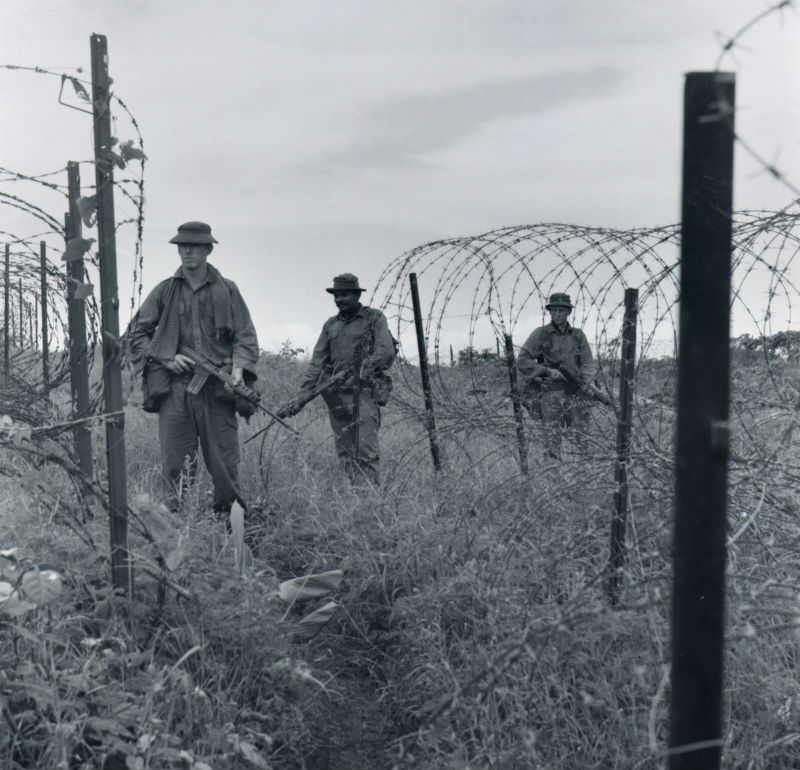 Willy hanged himself in his own garage five years ago. No note. Nothing. I had spoken by phone to him while he was at work on a new building in Auckland City on the Saturday afternoon…asking if he was free for a beer later in the day. He said no.
It was two weeks after ANZAC Day and we had had a terrific day together from Dawn Parade to dusk.
On the Sunday morning after my phone call, Willy sent his family out on some pretext – and hanged himself in the garage.
Prior to his funeral, before they closed his coffin, what was left of One Platoon, V Company, medals gleaming and clanging, stood around Willy. His family had dressed him in his green beret, jacket and medals and regimental tie.
We sang to him – "Take me back to the Long House, the Long House of Sarawak", from his Borneo tour. We belted out "Uck Dalai number three, he won't buy me Saigon Tea, Tan Du Lan number one! he go AWOL just for fun"…and of course, we sang "The Green, Green Grass of Home".
And once again, we cried.
At his crowded wake we stood and wondered "why?"
"Why did he do it?"
No-one had an explanation.
But I think I know why, and the seeds of it are in my mate's thoughts at the start of this narrative:
There comes a day when the nice, quiet lives that we lead seem not enough – but we have too much of life's good "trappings" to simply throw away and "go bush". And anyway, our bodies won't let us "go bush" to much extent.
So we carry on, missing the past excitements, achievements and adventures…nothing is really wrong with our lives (except for a list of medical ailments under treatment).
And then, for Willy, something happened…a set back, a loss, a disagreement at home or work, maybe an unwelcome medical diagnosis, kept secret, perhaps a minor brush with the Authorities…and suddenly it all became too hard.
Time to go. Give it all away.
And I won't even tell my old mate Brian about it.
Even though I spoke happily on the phone with him only hours before he did it.
Or maybe I'm wrong. Maybe I'm full of shit! Maybe he was murdered for some unknown reason…maybe the Police and coroner got it wrong. I thought about this possibility for many months.
But probably not.
I think that Willy decided that he'd done his last patrol and it was time to find out what lay over the ridge-line and the next valley.
I hope it's brilliant for you, Willy.
Rest in Peace.