V Company senior officers had a problem.
Feedback from the troops, via section and platoon commanders (and from the "Fragging Is Murder" interviews) highlighted very low levels of morale. High levels of fatigue and dissatisfaction with workload and lack of appreciation of achievements, were cited causes.
The pace and intensity of field operations since the men first set foot in the local jungle were extraordinary.
Patrols were committed night and day for one-two week's duration, one night back in Nui Dat for resupply of food and ammo, and back to another patrol.
Search and destroy missions were proving highly successful. Many units of the two known Viet Cong and North Vietnamese Battalions were being searched for, found, attacked and ambushed…and destroyed.
By the time we, in 1 Platoon, lost our first man killed in action (Morrie), our kill ratio figures were 80:1. This ratio was the country – wide measure of success in the non-territorial warfare that we were conducting.
So fatigue and low morale were building…and the three incidents (see "Fragging is Murder" story) had shocked troops and command alike. Such violent expressions of rebellion were unheard of in our Army.
So what to do about it? Three brilliant ideas came out of the Officer group.
We had a Company commander who was much respected – he went on patrols with his HQ section and other field units…and made a name for himself early in the tour by confronting and killing a Viet Cong soldier in thick bush with a "double tap" from his M16.
His previous SAS experience had taught him this very effective technique of ensuring a quick knockdown in contact. He instructed all of us to use the technique when firing the first shots in a contact. We did. It worked.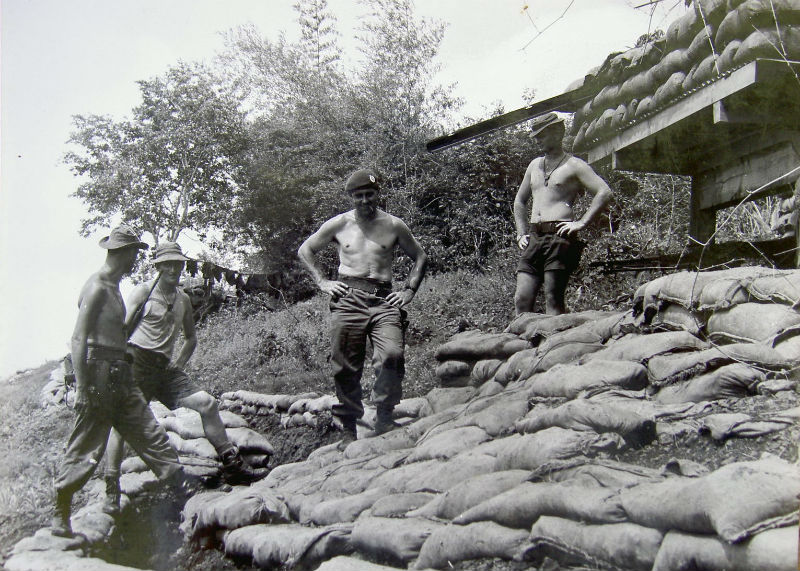 He and his team did three things that had a lifting effect on my morale…and on that of my mates.
BEER!
The first was the seemingly casual availability of several layers of slabs of beers, slabs of ice, slab of beer, slab of ice…on the edge of the chopper pads when we were brought in by Huey from a longer range patrol. We would be invariably tired, dirty and low on water…I can remember standing on many a chopper pad edge, dropping my pack and literally squeezing a can of icy cold Budweiser straight down my aching throat. Only one or two. But boy! was it appreciated.
CHINA BEACH
Using typical Kiwi (but very non-Army) ingenuity, our bosses organised our Aussie comrades to man our sentry posts along our Company section of the wire for a 24 hour period.
We showered, donned our "best" field clothes, saddled up with the usual patrol order of web-belt/ammo and rifle, and boarded three open-decked trucks and a couple of armed land-rovers.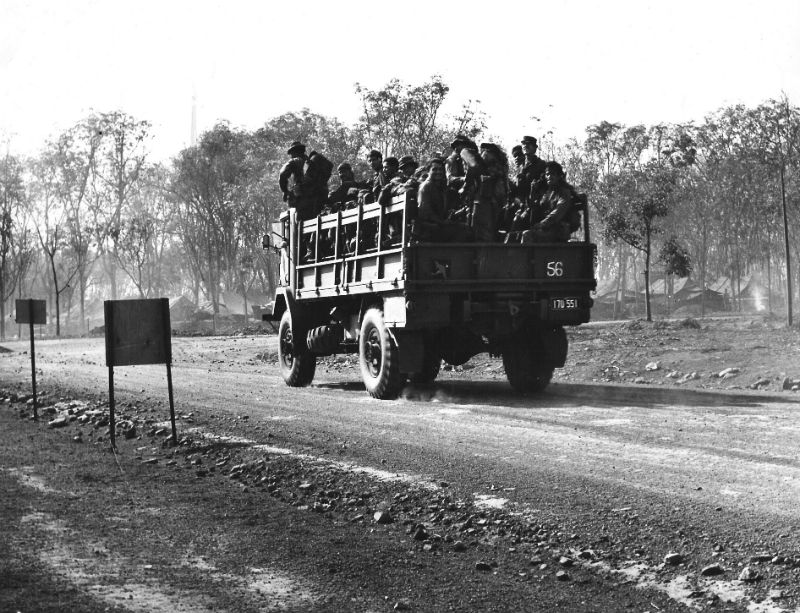 By 0700 hours we were trundling along, alertly scanning passing paddy fields and villages, on the main road to Vung Tau. Vung Tau was the coastal resort town of choice by the county's previous colonial masters, the French. If you saw "China Beach" on TV, think Vung Tau.
Key to our Big Day Out was the US military secure area at the northern end of the beach. It consisted of a walled mini-town of shops, bars and cafes – all made secure by checkpoints and police patrols.
All arms were checked in at the gate. After getting over the initial nervousness of walking around unarmed, we spread out and began enjoying the freedom of the place. (We later learned that Charlie used to send his guys into this area for R&R too. Apparently, no-weapons equals no-conflict! World Leaders take note!)
A major part of the day's success was a US PX "Club" that fronted onto the white sand and surf. I had the largest steak of my life there for lunch…and played my very first poker (fruit) machine, using nickels.
And we swam, and we drank beer…and we swam, and we drank beer…and the sunny day drifted into a wonderful, lazy, hazy idyll.
Just before the appointed curfew to board the trucks arrived, a small group of us were having a few "cleansing ales" in an outdoor bar near to the gate that we were soon to go to, to retrieve our weapons.
Our table had a very impressive pyramid of empty beer cans towering over the group. No one was allowed to lean on the table. The tower was to stay behind to remind the locals that WE had been here (or some such nonsense).
In walk two "White Mice" – local Sth. Vietnamese Police – so-called because of their uniform of brilliant white shirt, dark sunglasses and swaggering walk and attitude.
"You all go now! Go to truck now!" yells one of them. He is ignored.
"Take down cans now! You all leave now!" yells the other. Impressive. Both can speak English. They deserve an answer…
"Fuck off, Mouse!" says Dave C. from Two Platoon.
White Mouse # 1 draws his revolver from his very fancy white holster. He waves it around in the air. "Leave now. Leave now!"
"Don't you pull that fuck'n toy on me, you piece of shit!" advises Dave C. He gets to his feet.
White Mouse #1 aims the revolver at Dave and screams "Sit down! You leave now! Sit down!"
"You bastard," growls Dave C. "Don't point that gun at me!" and lurches towards him.
Two shots ring out. We freeze. No one moves or speaks. Dave C. looks at his left arm…blood runs down and drips onto the floor. He keeps moving towards the Cop. Growling loudly. Swearing loudly…
Both White Mice turn and run through the check-pointed gate, never to be seen again.
Dave C. gets a bandage from somewhere. We carry on drinking for another 10 minutes and then head through the gate for the return to base.
Dave's wound was flesh only…repaired back at Nui Dat by our medics and never reported, as far as I know. But his legend lived on and was repeated with much gusto and action replays at his funeral in Thames in 2008.
The return truck trip from Vung Tau to Nui Dat was a nightmare for the drivers (and any sober NCO's or officers in charge).
We all faced outwards as we sped through the countryside, as we were supposed to.
Then someone in the lead truck threw a smoke grenade into the paddy field. Beautiful crimson smoke billowed. Ooh's and Aahs all around. Another one. Green. YEAHHH!
Someone sees a water buffalo a hundred yards into the field. He fires a round from his SLR.
"I saw a VC" he yells! Yeah Right!
"No more firing! No More grenades!" yells a desperate NCO leaning from the passenger cab side of the truck.
Drunk as were all are, we see the sense in this order…and quieten down to prolonged giggling…then someone starts "Born Free"…the hit song in Malaya before we left…followed by "the Green, Green Grass of Home"…a song to feature later on the last day of our tour (see the Story of the same name).
How we got back without further mishap is a lost memory…it pays tribute to the planning and execution of the trip by the powers that gave us the day off. Maybe they spent a thousand man-hours clearing Charlie from anywhere along that road that day…or paid them mega bucks to stay away…or maybe three truckloads of drunken Kiwis was a target to be kept well away from.
Anyway…we all arrived back into our bunkers safely and I heard later that our mess was empty that evening for the first and only time of the tour.
All I can remember is a grand-daddy hangover next day…and gratitude that we were not going out into the bush until the following day…another piece of superb management planning.
A BROTHEL? YOU'RE JOKING!
The third thing the bosses did was buy a brothel.
Yes. That's right…buy a brothel…for us…just our Company of 100-odd men. No Aussies, no Yanks, no Officers. Secure area in Vung Tau, doctor-approved girls, personal room with fridge and balcony each. Four men at a time. Rostered in for 3 nights/4 days each. It was magic!
Names were drawn by ballot…and posted on the Company notice board.
You could not choose your other three mates…but you could choose your "mate" for the three nights upon arrival at the "establishment". No changes to dates or timings tolerated. Wounds or illness? Tough luck – you missed out. No correspondence entered into.
And… please, no correspondence about this topic to folks back at home (that included other Army institutions, friends, etc…scuttlebutt was that the funding of this highly organised covert military operation was "black".
So don't ask where the money came from.
One delicious rumour that I heard was that our much-loved company clerk had "forgotten" to remit monies received from the troops for fines, useless gifts like TV sets, chess sets etc.
But it was top class, smoothly carried out and a source of much hilarity, fervour…and downright gratitude.
The dates of your lucky days were posted alongside your name. If you had some reason why you would/could not avail yourself of the offer, you could sell, trade or bet with the asset.
I know of three men who took this option.
Not me, brother.
I was worried sick when we were sent out into the jungle several clicks away from camp for 12 days…my "date" was right slap bang in the middle of the patrol. I shouldn't have worried.
On the appointed morning a radio message came to our platoon telling me to be at grid ref. XYZ at 1000 hours for extraction.
YES SIR! I said.
Sure enough, with my envious mates posting sentry in a circle around the improvised landing zone, the beautiful RAAF Iroquois helicopter swooped in, hovered just off the ground, hauled me aboard and roared off at tree-top level.
Back at camp I showered, changed into my "going home gears" – best jungle greens plus black cravat, and met up with the other three grinning guys from the other platoons.
We were run into Vung Tau by armed Land Rover and dropped at a building, presumably in the "secure" area we had been at a few weeks before. I can't remember much, other than checking in our weapons, entering a two storey, stand-a-lone building with rooms with balconies.
On the ground floor was a reception area that had a tiered structure (much like a mini sports ground seating arrangement) set up. Seated on the planks were about 8-10 of the most beautiful Vietnamese girls I had ever seen (mind you, I hadn't seen many).
We were told by a mama-san (a mama-san that looked as good as any of the girls) to choose a companion for our three night stay.
This was quickly done and I was soon alone with her in my room on the first floor. The room had a double bed and a fridge! Not a mini-fridge, but not a full family fridge…a middle-sized fridge. I asked my new friend to sit on the bed…I opened the fridge…
It was CHOCK FULL of beers…all the brands you could wish for…all icy cold.
I grabbed two cans, opened them and gave one to my lady…"let's talk about this," I said. And we did…all that day and all that night.
And all the next day…and the next night. While on a bathroom visit during day three, my lady (whose name I am embarrassed to admit has gone from the brain cells) organised a re-supply of the fridge…a gesture I was most impressed with.
Food must have featured from somewhere in the blur of the four days (this was the fittest and strongest period of my life, and I was eating like a horse) but I can't remember it…but I do remember that on the last night all four of us met on one of the balconies with our respective (and respected, I might add) ladies…and with the remains of our fridges…and partied the night away…
The return trip in the Land Rover was strangely up-beat. I thought we would be "down". But quite the opposite. We felt great. We hadn't known each other very well before this sojourn. But now we were life-long buddies…though one of us – Malcolm S – was never to return to NZ. He was to die in a hail of machine gun rounds.
A chopper dropped me back to my patrol that was only two days out from Nui Dat – and I finished the duty in fine spirits.
We all gave generous gifts to our hosts…including Mama-san. I hope the Company-wide exercise made up for the imposition of us, our allies, our enemies and the whole damned war on their lives.
It's a little "PollyAnna" and "Yellow Brick Road" of me to think that somewhere, somehow my lady of that oasis is still alive today…and that she is living inVietnam, a happy and still beautiful grandmother…and that she somehow reads this Story.
I know how stupid that sounds…a soldier at war…meets an unknown lady of the night (three nights!) and gets a little wistful… but I do wish her well…I hope that she and all of her compatriots (and Patriots) of the South Vietnam that I was defending, survived the tragic upheavals of the Communists from the North…the "re-education"…the loss of assets…the hardships…and that the new millennium has brought some stability to their beautiful country through trade and tourism.
I will never see those shores again. I have had several chances to visit Vietnam…with Veteran groups and as a tourist. I have decided, after long and vigorous debates with myself…I do not wish to be physically close to too many incidents that still feature nightly in my dreams…and elsewhere on these pages.
Being rostered to The Brothel with men from the other platoons was a stroke of genius…it split up some very notorious groups of friends who always got into trouble when together…and let new, younger guys like me make new buddies.
It's a part of my past that I do not regret…that I am proud of…proud of my performance as a soldier, my response to my childhood questions of "what would I do if I was shot at?" …and very proud of my Unit and fellow soldiers.
I'll pay tribute to them elsewhere.
But I express my admiration of and gratitude for the professional management skills of our Company and Platoon commanders in the way they handled our "morale" problems.
Lessons learned here, as well as elsewhere in V Company, stood me in good stead later in my life as a man-manager and event organiser.
Although, ultimate power over life and death and deadly weapons must have been a useful set of management tools to have had.